Services
Traditional: 8am & 10:15am*
Contemporary: 9am*
Modern: 11:15am*
*Service is livestreamed
Christmas Card Post Office
Cards may be dropped off 11/26 through 12/17 in the Front Foyer or Worship Center Lobby
Cards may be picked up 12/3 – 12/24 in the Front Foyer only
Write First and Last Names on each card, include their Adult Bible School class if available
Alphabetize your cards and secure with a rubber band
Write the number of cards on a slip of paper and attach to the front
Do not bring cards for people who do not or cannot attend church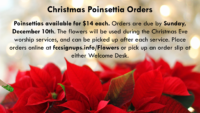 CHRISTMAS POINSETTIAS
Poinsettias available for $14 each. Orders due by Sunday, December 10th.
The flowers will be used during Christmas Eve morning worship services, and can be picked up after each service. Order online at fccsignups.info/flowers or fill out an order slip at our Welcome Desks.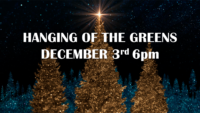 HANGING OF THE GREENS
Sunday, December 3rd at 6pm in the Sanctuary
Join us for this annual tradition, as we sing carols, enjoy our children's handbell and adult choirs, and decorate and light the Christmas tree.
Afterward, join us for hot chocolate and cookies at the front entrance or smores at the fire pit.
GINGERBREAD HOUSE DECORATING PARTY
Friday, December 15th at 6pm in the Family Life Center
Join us for a fun time of fellowship with family and friends, with pizza dinner, dessert, and a Gingerbread House decorating contest. Cost: $2 per person for food plus $5 per Gingerbread kit. Sign up at fccsignups.info/gingerbread by December 11th.
Night to Shine
Dress Donations Needed
Drop off new or gently used gowns in the church office, Mon-Fri from 9am-5pm
For My Family
Fairmount wants to help kids know God and His love for them, grow in faith and love Christ, and show God's love to others. Our programs meet kids right where they are and help them to discover God and His Word on their own level.
Adult Groups
Following Jesus should never be a solo act.
Part of what it means to be a church family is opening our hearts, lives, and homes to one another, and growing together at church and in the community.